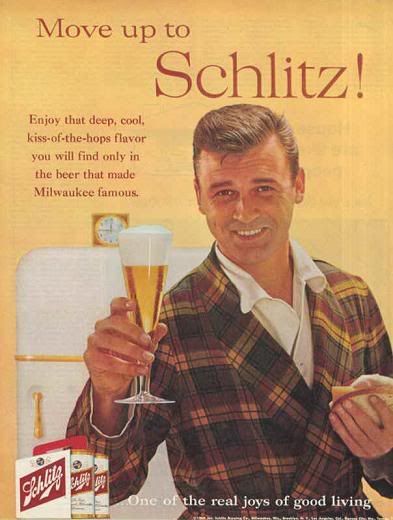 So tonight I moved my Schlitz from the garage to the keg and into my stomach. This is my first Lager and next winter I am going to try and get more into these lagers because they are a nice break from the complex flavors of a lot of the Ales that I make. I let this hoss lager for 2 months (new record for me for allowing time to pass without drinking my beer).

Anyway, one of the most gratifying things about this beer is that the first taste rushed me back to my days at the frat house pounding cheep brews out of funnels. The smell was woven into my senses as the first thing I caught a whiff of in the morning. Feet sticking to the floor, digging my books out of a pile of empty beer cups, the great wall of empty kegs...those were the days.

Now I am sure you are reading this wondering "why the hell would you brew something that reminds you of college beer?" and I too asked myself the same question. To be honest, I am not sure, but it's really rewarding to know I can make decent schwag beer.

So here is the official review:

Aroma: This has a sweet malt smell with a distinct maze nose that was the part of the beer smell that reminds me of Natty Light.

Color: I don't have a SRM chart, but I would say it's in the 20-30 SRM range. Its a light gold color that should be more clear than it is (I forgot the Irish Moss).

Taste: Well it's an American Pilsner, what more can I say? This is a distinct corn/maze flavor with sweet malt overtone. There is little to no hop bitterness that jumps out at you, but there is a dry finish that I think is the hops that was in it.

Mouth feel: Light for this style, but I think my kegerator needs to get it's self back on track!

Drinkability: Well it's an American Pils, at about 5% ABV and very light body there is not much to worry about here.

OVERALL: Meh, it's still better than Bud!